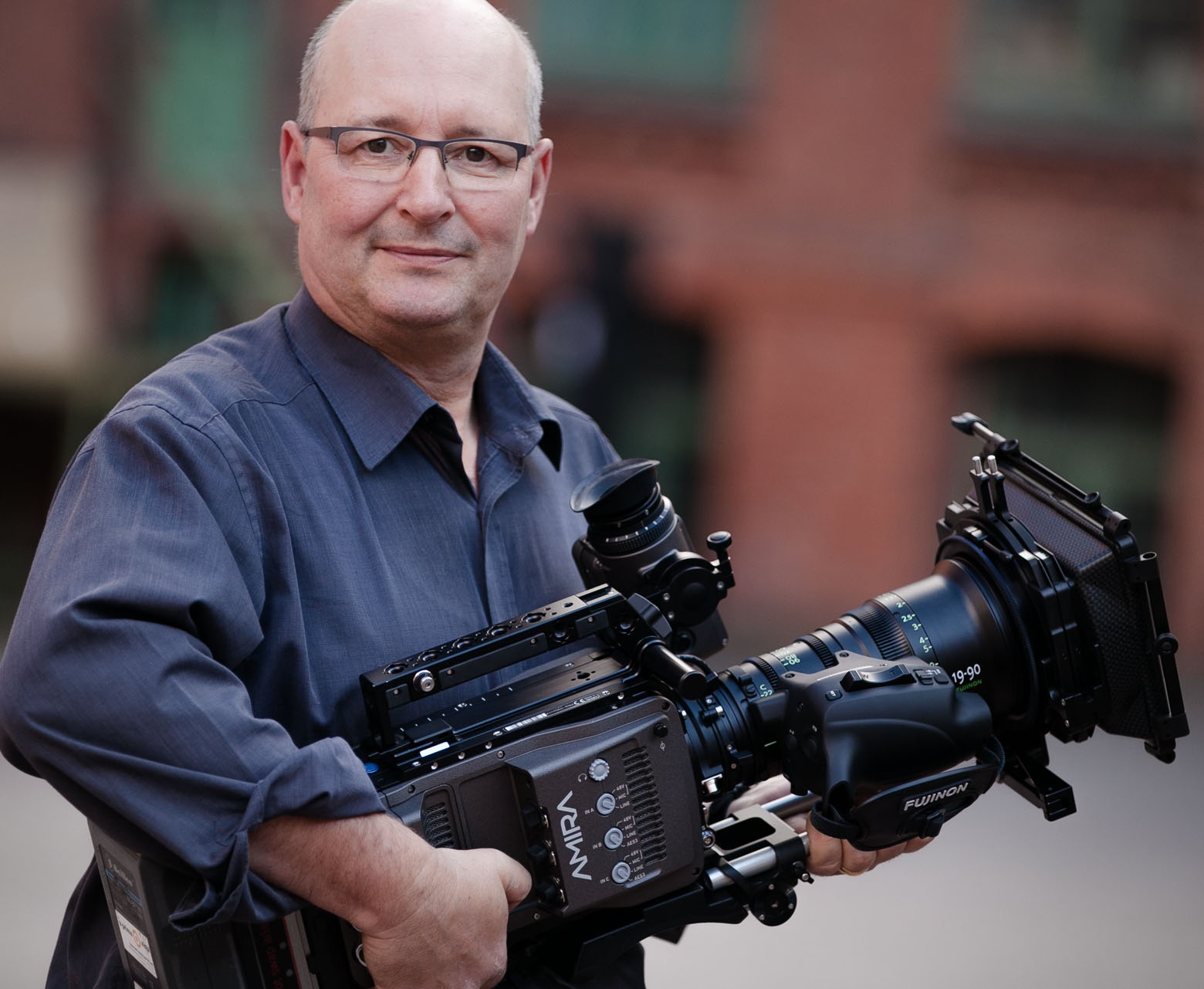 Please allow me to introduce myself: My name is Christopher Rowe, I am a British DP resident in and working out of Berlin, Germany. I worked my way up through the ranks of news and current affairs while the Berlin Wall came down, shot music videos in the heyday of the techno scene, and completed my education with a two year post-graduate course tutored by Michael Ballhaus, ASC. Since graduation in 1998 I have split my time between fiction and non-fiction, shooting 2 feature films, episodic TV, TV-Movies, docudramas, and also documentaries and reportage ranging from the highly stylized to run-and-gun vérité.
If I make changes will the order change? I started out as a Beta SP owner/operator from 1990-94, but since then I have been very happy to have the freedom to select the camera that best suits the project at hand, be it film (35, 16 & 8mm), video (Beta SP, DigiBeta, HDCAM, among others) or digital (Alexa, Red, XDCAM, C300, 5D, among others). And I thought things would stay that way, until the news from last year's IBC that Arri was planning to release the Amira electrified me.
Like so many of us, shooting video with 2/3″-chip cameras was always fraught with compromise – of course they have their uses and even advantages in certain situations, but from an aesthetic point of view the bench mark was 35mm film, and the deep depth of field and limited dynamic range inherent to the system was a huge disadvantage we often tried to work around (remember the P+S Adapter

) but were never really satisfied with.
The advent of HD-capable DSLRs opened up a whole new range of aesthetic options, and enabled many of us to (re)discover the beauty and the drawbacks of selective focus, but the ergonomics of the lower budget cameras are a huge drawback, and limit our creativity in many situations, while high-end cameras are beyond the reach of many, if not most budgets and also require a relatively large camera crew.
I'm fed up with building rigs from so many different pieces that don't really fit together and still fighting with a poorly balanced imaging device – I want a camera that sits firmly and comfortably on my shoulder straight out of the bag.
I'm fed up with weighing up the pros and cons of aesthetics vs. operability – I want both in one piece of equipment.
I'm fed up with artistic compromises and cameras that get in the way of the shot I'm aiming for – I want a camera that enables me to realize my vision and allows smooth and flawless operation.
You probably know where is is going – Arri Amira, what is there not to love about it! The first and still the best camera that combines the user-friendly ergonomics of the traditional ENG camcorder with the superior aesthetic only a 35mm single sensor can offer. Add in the widest dynamic latitude and best colour reproduction of any digital camera system and the robustness and reliability that comes with over 75 years experience making cameras, and you have the only digital camera I will ever want to use again!
Once I was sure my dream camera had finally been developed and would soon be made available, the logical question was how to ensure I could work with it as often as possible, and 20 years after selling my first camera I was on the road to ownership again. Now that my dream camera is due to arrive, I want to share with all of you out there my Amira experience and hope you tune in regularly to this spot. The next post might be my first unboxing video!